The Best Party Hostels Cusco: Loki vs. Wild Rover
         VS.           
Visitors to Cusco who are looking for a good party hostel will likely hear two names: Loki and Wild Rover, both of which are well-known hostel chains in South America and notorious for their parties. So what differentiates these two infamous party hotspots, if anything? Keep reading below for an in-depth comparison.
Location
Loki and Wild Rover are located right around the corner from each other in the neighborhood of Santa Ana just outside of Cusco's central plaza. Due to their location on the side of a hill, both hostels have good views of the surrounding city, though Wild Rover is on slightly higher ground and seems to do a better job using its facilities to showcase its incredible panoramic view. The location of both hostels is a short distance from the Plaza de Armas and it's easy to walk or find taxis to get wherever you need to go.
Verdict: Slight advantage Wild Rover.
HOW TO PERU TRAVEL TIP
: Save money and stay safe when going to/from Lima Airport by using the Official Bus service inside the Airport called
Airport Express Lima
Quick Tip:
If travelling to or from Lima Airport, it is strongly recommended to use the luxury
Airport Express Lima
bus to get to or from your hotel. Safer and cheaper than a taxi with no baggage limit as well as free Wi-Fi and USB chargers onboard, it is ideal for travellers.
Cleanliness
Even if your primary goals are sightseeing and partying, it's still important to have a clean and orderly environment to relax in at the end of the day. Both hostels get high marks here, with large cleaning crews on staff who are always busy tidying up. Of course, some messes are to be expected when you're dealing with backpackers and parties, but both Loki and Wild Rover do an admirable job of keeping up with the housekeeping chores created by hundreds of backpackers passing through on a weekly basis.
Verdict: It's a tie.
Price
Which hostel is right for you in terms of price will largely depend on what exactly you're looking for. When it comes to private rooms, Loki has a few more options than Wild Rover and its private double bed option (priced at 134 soles per night at the time of writing) is one of the cheapest private options available in Cusco. Wild Rover's private suites run a little more expensive, though it should be noted that their private rooms are VERY nice, featuring incredible rooftop views of the city right from the room. For shared dorms, Wild Rover has a larger array of options available than Loki does and their standard 20-bed dorm option (priced at 29 soles per night at the time of writing) is one of the cheapest options in Cusco. All in all, however, the pricing for both hostels is quite affordable regardless of which option you choose.
Verdict: It's a tie.
Food & Drinks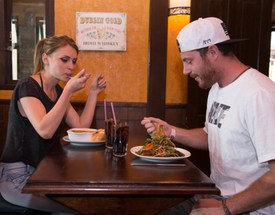 While both hostels have their share of the typical standards, it's Wild Rover that really stands out here. Wild Rover is owned by a group of Irishmen, so their food menu features a few traditional Irish meals alongside some tasty interpretations of international and Peruvian dishes. For drinks, Wild Rover offers the impressive full bar that you'd expect of any top-notch Irish bar and cheap daily specials to boot.
Verdict: Advantage Wild Rover.
Reception
Loki and Wild Rover each have friendly and helpful staff to greet you and help you get situated in your room. The booking process at both hostels is fairly straightforward and typical–you can book online directly at their websites or with popular booking tools (as well as booking over the phone or through email). The main difference between the two is that Loki has a convenient wristband system for charging extra items like drinks and food, making it especially easy to add things to your account and pay when you check out.
Verdict: Advantage Loki.
Sleeping Accommodations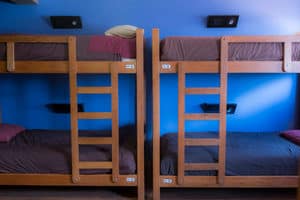 No matter how big of a party animal you are, it's still always important to be able to get a good night's sleep at the end of the night. Wild Rover really shines in this regard. Every bed is about as comfy as you could ask for, with new, high-quality linens and mattresses. Its bar is located in a separate building far away from any of the rooms, and they've also reportedly invested in new insulation, so it's unlikely you'll be kept awake by any late-night parties when you've gotta wake up early for a trek.
Verdict: Advantage Wild Rover.
Daily Activities
Both hostels offer not only nightly themed parties but also frequent daily activities such as sports tournaments, food events, Spanish classes, and many other fun and useful outings. These events give guests a chance to socialize and meet new people outside of the typical party atmosphere, often with a chance to learn about or participate in the local culture at the same time. Loki and Wild Rover's daily activities are both excellent, but Loki also offers a walking tour of Cusco which takes place reliably every day, so they get the upper hand when it comes to activities.
Verdict: Slight advantage Loki.
Did you know?
- The Tourist Information Center at 799 Avenida Jose Larco in Miraflores offers important free information for all travelers to Peru. Visit our
blog
for more information!
Party Atmosphere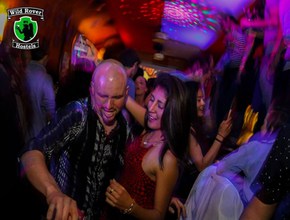 If you've found your way to this page, chances are that the parties and overall atmosphere of each hostel will be the most important deciding factor in choosing where to stay. Though both hostels have some great parties throughout the week, in our experience the events at Wild Rover did seem to be a little bit more "wild" in general. You can expect to find a lively atmosphere at the bar every night with good music and creative themes. The clientele also tends to skew slightly older at Wild Rover, so you're more likely to meet interesting people with stories to tell and diverse interests outside of drinking and partying.
Verdict: Advantage Wild Rover.
Final Verdict
Both Loki and Wild Rover are great places to spend a few days (or longer) while in Cusco and most people will be happy with either option. However, in our experience at both hostels, Wild Rover narrowly edges out Loki as the superior option. The atmosphere at Wild Rover has a perfect balance of all factors: good parties, attentive staff, convenient location, and excellent accommodations. In our opinion, it's the best place to have a little fun and enjoy the incredible sights of Cusco and its surrounding area.
To book a Tour in Peru we strongly recommend that you use
FindLocalTrips.com
a search and comparison website for tours across all of South America.